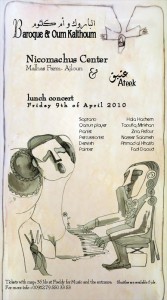 Ateek is an initiative introducing contemporary arab composers and musicians. Never before the last decade, have we witnessed such a vast and intense cultural exchange on a global level.
Obviously the expansion and speed of communication possibilities played a primordial role in facilitating this 'brassage des cultures' and the emergence of a cultural melting pot.
Ateek aims at renovating old forms and combining them with different musical styles including jazz and classical music both Arabic and occidental. Contemporary composers from the middle east and Europe such as Iyad Mohammad are constantly composing for the ensemble which adds to its originality.
The Ateek Ensemble has been serving as a platform for this musical journey introducing old Arabic classical forms in a modernised way and integrating them in the classical repertoire.
Another Ateek project is the concerts for two pianos which is a collaboration between different pianists from different parts of the world such as Professor Stephan Moller from Germany, Mohammad Othman Sidiq from Irak and Zina Asfour from Jordan in  performances that include many world premieres and works by contemporary composers such as Iyad Mohammad, and Mohammad Othman Siddiq.
The term Troubadours in medieval ages comes from "Itrab wa dour" which signifies in Arabic get carried away with the music and whirl. The dervish in Ateek emphasizes this state of "Tarab" and marries the visual to the auditory in spiritual harmony.